About
Anton Gerner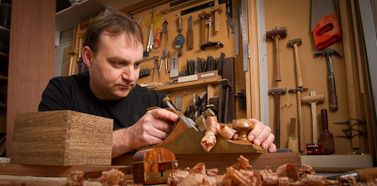 He's a devotee of the dovetail, master of mitres and votary of veneers. For over 30 years award-winning furniture designer and maker – and detail obsessive – Anton Gerner has been working wonders with the finest Australian and imported solid timber and veneers to craft intricately constructed furniture.
From a showroom and workshop that was once the local dairy in the Melbourne suburb of Hawthorn East, Anton draws on his deep design knowledge to exceed expectations for clients in Australia and around the world.
Anton's work has been featured in numerous exhibitions and design competitions, and two of his statement pieces form part of the National Gallery of Victoria permanent collection.
Contact Anton to start developing ideas for anything from home furniture to commercial projects, a one-off piece or a collaboration with an architect or interior architect.
Craftsmanship
Anton's collection of traditional hand tools is a thing of beauty in its own right, but it's what he does with them that is truly awe-inspiring – and can't be matched by machines.
Mortice and tenon joints, dovetails, hand-laying of veneers, hand-fitted inlays in contrasting timbers aren't just for show – despite being intricately beautiful. They add strength and durability, allow for seasonal movement or conversely ensure parts won't budge when they shouldn't.
Anton's cherished hand-plane takes each piece to precision flatness, before he and his team apply natural oils, waxes or traditional French polish – chosen to make the timber's inherent beauty the real star of the show.
Each unique design is branded with the Anton Gerner name and the completion date.
Materials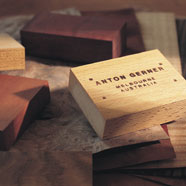 Every piece of solid Australian and imported timber and veneer personally selected by Anton has a story.
Whether it's the auction piece that's been waiting decades for the right project, or he's flipped the grain to create an entirely unexpected finish, if it's Hydrowood from the depths of Tasmania's Lake Pieman or whether it's his beloved Huon Pine, the commitment to quality is unrivalled.
Anton personally assesses the grain, colour, strength and texture of his materials, guaranteeing the quality from the outset. All veneers are pressed in-house on plantation-grown plywood, while features like handles, knobs and corners are handmade from glass, aged brass and nickel silver to add further interest.